Class of 1970
East Mecklenburg
High School
In Memory
Dale Babcock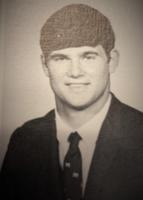 Dale A. Babcock, 48, passed away Wednesday, April 5, 2000.
A native of Charlotte, N.C., he had been a resident of Tabb for 14 years. He was employed as a mechanical engineer at NASA for 14 years. He enjoyed scuba diving with his children, racquetball, weight lifting, tennis with his daughter and camping. He was a volunteer coach for Little League soccer, T- ball, and basketball. He was a very active volunteer on the Fort Eustis swim team. He will be greatly missed as a loving father and husband.
Mr. Babcock was preceded in death by his father, Warren Perry Babcock Sr.
Survivors include his wife of 22 years, Fay T. Babcock; daughter, Laura Ann Babcock; son, Lyle Warren Babcock; mother, Dorothy M. Babcock Schultz of Greensboro, N.C.; sister, Anna Babcock Carroll, and her husband, Dennis, of Ellington, Conn.; two brothers, W. Perry Babcock Jr. of Charlotte, N.C., and Don H. Babcock, and his wife, Debbie, also of Charlotte, N.C.; and one niece and four nephews.
https://www.dailypress.com/news/dp-xpm-20000407-2000-04-07-0004070148-story.html