Class of 1970
East Mecklenburg
High School
In Memory
Laura Morris (Dockery)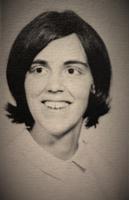 Mrs. Laura Jayne Morris Dockery, 40, of Westminster, CO, formerly of Charlotte died July 31, 1992. A memorial service was held at Trinity Presbyterian Church where she was a member.
Mrs. Dockery, was a Charlotte native and a 1970 graduate of East Mecklenburg High School. She attended Furman University and graduated with an Environmental Health degree from East Carolina University and an Electrical Engineering degree from UNC Charlotte.
Mrs. Dockery was survived by her husband, William; daughters Arlissa and Zoe; her parents, and four sisters.